Lately I've been wanting to add a new item to my make-up bag. Lipstick. Seeing how I'm new to this I thought I should try out a few different shades from palest nudes to the darkest brights. But I didn't want to break the bank doing so. So I went to my local beauty supply store "Sally's" and pick up $6 worth of their mini lipsticks.
Below are the 6 shades that I picked out. Hopefully this inspires you to be adventurous and try some fun bright lipsticks.
This lipstick came out looking a lot frostier on my lips then it appeared in the tube. It's the kinda shade that looks great paired with a dark smoky eye.
Now I think this one just might be my favourite. This pinky/nude shade is tame enough to wear day to day. And gives the final touch to that fresh faced look.
Okay, this vibrant pink is so fun! Right?! Great for pairing with bright coloured items of clothing, like a royal blues or yellows. But I would suggest minimal make-up on every other part of your face, When you got lips like this who needs all the extra?
All though the boy thinks this colour looks horrendous on me, I quite like it. I wore this shade to school the other day with some blue jeans and a knit sweater. Taming this colour down with comfy clothes makes this shade seem not so scary. And for my brown sistas out there give this colour a whirl, you just might like it.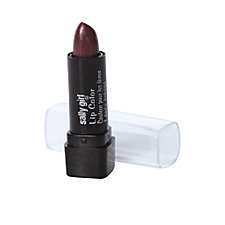 Whoopi called....She wants her lipstick back.
And last but not least.... BOOM! ↑ When I first laid eyes upon this sucker I knew I had to get it. Just don't ask me how or where I'm going to wear this.
So how bout it? What shades are you willing to try? Happy lipstick shopping!